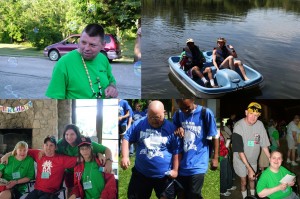 APPLICATIONS WILL BE AVAILABLE IN FEBRUARY !

We encourage you to consider your camper's individual abilities, and if you are unsure if Moja will be a good fit physically or behaviorally, please email campmoja@gmail.com.
How to apply:
Campers must be at least 18 years old by the beginning of camp.
Applications are available online.
If you have any issues with doing an online payment, please call 816.833.4300, ext. 600
2022 information:
Regular Registration, TBA
Early Bird Registration, $TBA
$50 nonrefundable deposit required at application
If you are new to Camp Moja or have a new email address, you can email campmoja@gmail.com to be put on this year's email list.  Information will also be posted on the Camp Moja Fan Page on Facebook.
*If you are a Jackson County resident, you may qualify for a scholarship  from the Board of Special Services (816.363.2000). Please contact them for more information. You will need to print the application after filling out each page (by using File/Print on your toolbar) to have a copy for Eitas.
BEFORE REGISTERING A CAMPER
– Please contact campmoja@gmail.com with more information (including the camper's name and if they've attended before)
only 
if the camper meets any of the following criteria:
Is unable to walk or use adaptive equipment to transport themselves 1/4 of a mile

Is the camper unable to perform activities of daily living (toileting, feeding, bathing, etc)

Has the camper been labeled as a choking risk?

Has the camper been sent home from Moja, for any reason, over the past 3 years?
Information to have on hand when registering your camper:
What time of day does the camper take meds (Breakfast, lunch, dinner, bed)

How many medications/supplements per day does the camper take

Does the camper have a roommate/counselor preference

Camper T-shirt size

Does the camper have a talent for the talent show already picked out (if so, what)

Degree of camper's intellectual disability (mild, moderate, or severe)

Camper's diet (regular, vegetarian, gluten-free or dairy-free)

Has/is the camper

Had a fall in the last 90 days

A violent outburst in the last year

A tetanus shot in the last 10 years

Diabetic

Have seizures

Take seizure medication

Name, phone, email of 2 emergency contacts that are available to pick the camper up at any point of an emergency

Name, phone, email of the person for whom the medical registration should be sent (this should be the parent who lives with the camper, a QDDP/Case Manager, or house manager.

not the camper

)

Name, phone, email of the person (legal guardian or camper who is their own guardian) who will need to sign the waivers

Legal guardian's name and email contact