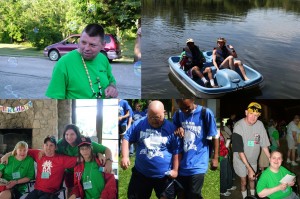 APPLICATIONS ARE NOW AVAILABLE!

We encourage you to consider your camper's individual abilities, and if you are unsure if Moja will be a good fit physically or behaviorally, please email campmoja@gmail.com.
How to apply:
Campers must be at least 18 years old by the beginning of camp.
Applications are available online here.
If you have any issues with doing an online payment, please call 816.833.4300, ext. 4
2018 information:
Regular Registration, $475
Early Bird Registration, $290 (before May 1)
$50 deposit required at application
If you are new to Camp Moja or have a new email address, you can email campmoja@gmail.com to be put on this year's email list.  Information will also be posted on the Camp Moja Fan Page on Facebook.
*If you are a Jackson County resident, you may qualify for a scholarship  from the Board of Special Services (816.363.2000). Please contact them for more information. You will need to print the application after filling out each page (by using File/Print on your toolbar) to have a copy for Eitas.