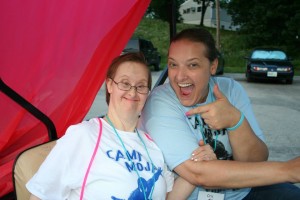 Camp Moja 2019 is now on a wait-list.  We will know Mid-May if we have any additional openings.  Be sure to add your camper to the wait-list by filling out the application below.
Applications are now available at: https://campscui.active.com/orgs/CommunityofChrist?season=2478107
We will be offering an early bird rate of $485 for those that sign up before April 15.   After that it will be full price of $620.  A $50 nonrefundable deposit is due at registration.
We will be offering a limited number of $50 scholarships.  Applications will be available on April 1.  This will be based on financial need.  If you live in Jackson County, contact Eitas for a possible scholarship.
Check-In Process:
We will not accommodate early check in unless you've made prior arrangements with the directors (campmoja@gmail.com).
Individual campers – 1-2 p.m.,  Monday, June 10
Group homes – 2-3 PM, Monday, June 10
PICK -UP will be promptly at 9:30 AM on Friday, June 14.
BEFORE REGISTERING A CAMPER – Please contact campmoja@gmail.com with more information (including the camper's name and if they've attended before) if the camper meets any of the following criteria:
Is unable to walk or use adaptive equipment to transport themselves 1/4 of a mile

Is the camper unable to perform activities of daily living (toileting, feeding, bathing, etc)

Has the camper been labeled as a choking risk?

Has the camper been sent home from Moja, for any reason, over the past 3 years?
Information to have on hand when registering your camper:
What time of day does the camper take meds (Breakfast, lunch, dinner, bed)

How many medications/supplements per day does the camper take

Does the camper have a roommate/counselor preference

Camper T-shirt size

Does the camper have a talent for the talent show already picked out (if so, what)

Degree of camper's intellectual disability (mild, moderate, or severe)

Camper's diet (regular, vegetarian, gluten-free or dairy-free)

Has/is the camper

Had a fall in the last 90 days

A violent outburst in the last year

A tetanus shot in the last 10 years

Diabetic

Have seizures

Take seizure medication

Name, phone, email of 2 emergency contacts that are available to pick the camper up at any point of an emergency

Name, phone, email of the person for whom the medical registration should be sent (this should be the parent who lives with the camper, a QDDP/Case Manager, or house manager.

not the camper

)

Name, phone, email of the person (legal guardian or camper who is their own guardian) who will need to sign the waivers